Sweet girl,
Because I love you, I cannot let you go out in public looking the way you do.
I know that it's hard to keep up with appearances when you've spent the last eight months surviving the elements in your jeans, long-sleeved hoodies and those ridiculous Ugg boots you thought would make you look cool, but really only declare to the world that you paid a sh*t load of money for some really ugly boots,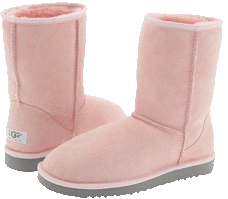 but fear not, Auntie B is here to help, so let's get down to business.
First of all, your legs are in need of a good shave.
I don't care what those laid back chicks who work at The Coffee Bean told you,
the natural look is
never
in.
Secondly, it's beach season, baby, and that two piece you picked up at Forever 21's end-of-season clearance sale last September isn't going to cut it.
Finally, let's talk about those feet!
Seriously, sweetie. Did no one ever tell you that you're allowed to get pedicures year 'round?!
Yeah, you even scared the dog, and he eats his own poop!
Alas, don't completely freak out. I'm here to help.
Because I love you as much as I do, I'm going to fancy you up so you can enjoy the summer sun without causing retinal damage to the rest of us.
While I can't afford to buy you a new suit
(we all know how picky you are)
, and the thought of gifting someone a razor and shaving gel makes me want to gag, I can help you out when it comes to the condition of those paddle boards you call feet.
I'm giving away a custom bottle of CAMP KILL-ME-NOW PINK nail polish
(as inspired by SUMMER ON THE SHORT BUS)

and
some other pedicure essentials, along with some SUMMER ON THE SHORT BUS swag.
Obviously, this prize pack won't solve all your problems, but it's as close as I can get without actually touching you. And let's face it...there's no way I'm touching you in this condition.
The giveaway lasts until July 1st!
a Rafflecopter giveaway