I'm not usually one for chain mail-based activities (Amish bread in a bag anyone?! *vomits*) but when my good pal Mindy McGinnis tagged me in this one, I have to admit...I was sort of excited.
The idea behind this blog tour is for writers and authors to share their writing process through four simple questions. (Click HERE to link up to Mindy's writing process) It's short, sweet, and to the point, which is why I like it. Nobody's got time for rambling these days.
So, here we go...
What am I working on?
I'm currently reworking the first manuscript I ever wrote. Back then it was called STALKING PEGGY FLEMMING, now it's called STALKING WHITNEY HOUSTON. It's a fun, dark-humored story about a seventeen year-old girl who's trying to claim her own identity; and it's not the one her mother wants it to be.
How does my work differ from others of its genre?
I think I write very honest characters who present themselves in an equally honest way. I'm not sure that my style is that unique, but I do think there are too many vanilla characters in the book world. If people were really nice, sweet, thoughtful, sensitive-to-others feelings all the time, we'd have no reason to read. Life would be so freaking wonderful there'd be no need for literary escape.
Why do I write what I do?
I've actually tried to write more dramatic, less humor-based books, but within a few pages one of the characters ends up burping their ABCs and it's all over. I write what I do, good or bad, because it's what wants to come out of me.
How does your writing process work?
I have to have at least a rough outline before I sit down at the keyboard. Without that, I might as well be trying solve a calculus problem.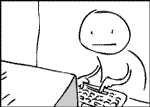 From there on, I edit as I go.
I will typically write a few hundred words, then view my document as a .pdf file to make sure it makes sense. (For some reason it reads very differently to me in .pdf form than a Word doc.) Once I ironed out what I've just written, I move on.
This method probably isn't typical, and definitely takes longer than just sitting down and knocking out a rough draft, but it helps me keep the story on track from the get-go, something I struggle with if I get too far ahead of myself.
Okay, so now you know how I make the magic happen (now would be an appropriate time to roll your eyes), mark your calendars for next Monday, April 21, so you can see how the following awesome chicks make their magic happen.
Kristi Helvig
Kristi Helvig is a Ph.D. clinical psychologist turned sci-fi/fantasy author. She muses about Star Trek, space monkeys, and other assorted topics on her blog. Kristi resides in sunny Colorado with her hubby, two kiddos, and behaviorally-challenged dogs.
Lynne Matson
Lynne grew up in Georgia in a house full of books and a backyard full of gnarly pines. Back then, Lynne would stay up late, reading Nancy Drew books under the covers (with a flashlight . . . a weak attempt at ninja stealth). Now she still stays up late reading books and writing them. When she doesn't have a book in her hand, you'll find her listening to music, messing around with paint, or hanging out with her husband and their four boys . . . or all of the above.
A. Lynden Rolland
A. Lynden Rolland was born and raised in Annapolis, Maryland, a picturesque town obsessed with boats, booze, and blue crabs. As a child she spent much of her free time compiling dramatic stories of tragic characters in a weathered notebook which she still keeps.

As a former high school English teacher, she enjoys visiting classrooms to discuss reading, writing, and publishing. When she isn't chasing her two boys around town or arguing about sports with her husband, she moonlights as a writing tutor and gymnastics instructor. She is represented by Rachael Dugas of Talcott Notch Literary Services. Of Breakable Things, her debut novel, will be released by Month9Books in the spring of 2014.